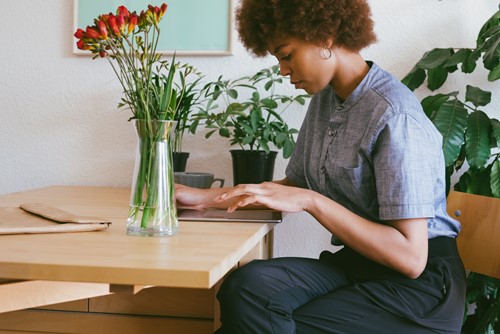 Photo by RF._.studio from Pexels

Once the floor plan has been finalized and construction work begins, you can start looking ahead to the interior design of your new home. When you take advantage of the styles that are trending today, you will be able to enjoy a fresh, contemporary look in every room of your house for years to come.
Here are the interior design trends for 2021 that you simply need to take note of:
The Surprising Rise of Wallpaper
Wallpaper may have been something that your grandmother loved, and perhaps she chose a different pattern for every room in the house. But for years, homeowners have shunned the idea of wallpaper — especially because of the work it took to apply and, subsequently, remove.
Today, however, modern homeowners are loving the idea of wallpaper once again. For starters, peel-and-stick wallpaper makes it easy to add a touch of texture or color to a room without enduring the mess of wallpaper glue and adhesive. In addition, the latest wallpaper patterns complement the other interior trends that are taking shape right now. Wallpaper is particularly popular in rooms that have personal uses, such as a bathroom, bedroom or home office.
The Entrance of Colorful Cabinets
Over the last several years, it seemed like anyone who was renovating their kitchen opted for sleek neutral cabinets in shades of white, gray or brown. However, in 2021, interior design experts anticipate that more people will be adding a burst of color to their kitchen by way of their cabinets. You may opt for a soft green shade, which will allow you to enjoy the color while complementing the rest of the kitchen with neutral decor. You also may consider country blue or daffodil yellow, which also are increasing in popularity.
The Need for Cozy Yet Functional Corners
If you are building a new home that has a quaint nook or a multi-purpose room, then you will want to take advantage of the interior design trends that utilize these spaces best. Even without a dedicated room, you can use a breakfast nook or a loft area as a home office. If you do not need a remote work space, then these flexible areas make ideal play spaces, study rooms or reading nooks. With so much of life happening within the walls of our homes right now, it's more important than ever to make the most of all functional and comfortable spaces.
As opposed to the lot that you select for your new construction home or the floor plan that you design with your builder, your interior design plan can be flexible. It's okay to opt for fashionable colors or accents that may not be popular in a couple of years — it is easy to switch up the color of the room or add in new furniture when needed. As you imagine the interior design of your home, have fun and be creative. This is your space to live in, and you should enjoy it.